Neglecting the ruling in the power of stars, Scorpius Dragon or higher order results of a heavy price for his ignorance twice due to his repeated misbehavior while his wife has no idea what's going on with his husband. People wonder, Now, Who is he? That's where 'Political Sex Scandal' come from.  Let me explain…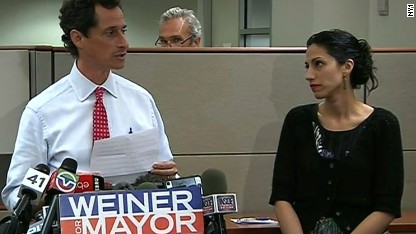 Your local political run your lives, use your tax dollars and make the laws!
New York mayoral candidate and former Rep. Anthony Weiner confirmed as authentic some newly emerged, sexually tinged online exchanges he had with an unnamed woman and What's causing crime in Cleveland? 

 Plus At least seven women have now come forward accusing San Diego Mayor Bob Filner of sexual harassment.
When interacting with the intense energies of Scorpius Dragon, you may see how obvious the sex scandal has exposed on Weiner and all things around hidden that would be exposed in the city of Cleveland.  Why do most people like Weiner and Fliner not being aware to be caught of how obvious the stars has busted them down with truth.
At the same time, hundreds of thousands of unconscious crowd at copacabana beach in Rio de Janeiro, waiting for Pope Francis to lead a worship service. The mission of Pope Francis and religious dogmatic teachings have long oppressed the forbidden teachings of Astrology due to the political control on the society/community/family that has continued over many generations in centuries with these controlled religious organizations. What's more, Francis said in a wide-ranging news conference aboard the papal plane." If someone is gay and he searches for the Lord and has good will, who am I to judge?" and he obviously has no idea how to explain about gays and lesbians – including gay priests .
Also there is no way to explain why the politicians are behaving badly refusing to step down. Nobody seems to know why the politicians acted the way. The problem is our mental function with the culture of sex that needs to be changed to a new level of spiritual perspective and grow spiritually through the natal charts, the transits and the moon phases accordingly by the universal work. All you can do is ask and you shall receive the lights from Divine order to have a better understanding in the human nature that applied by the energies of the stars.
This is exactly what we need to expand more on spiritual education resources related to get an opportunity for everyone including the wives using the stars to  get direct answers immediately after the investigation based on the natal charts where it shows the cosmic motives behind, such as his poor act of sexting with women and career in his political world.
Anthony David Weiner ( born September 4, 1964), is an American politician and former U.S. representative who served New York's 9th congressional district from January 1999 until June 2011. A member of the Democratic party, he won seven terms, never received less than 59% of the vote. Weiner resigned from Congress in June 2011, due to the  sexting scandal
Note, He is born with a placement of duality shown on his chart, for instance, Bill Clinton, Newt Gingrich and Eliot Spitzer, apparently also have the nature of a dual life. Weiner may have both private life and public life for the better or for worse. He can have a secretive life that would destroy his personal relations or forever shame by the public when it has currently located in the worse transit under the exposure at the wrong time. He was born with Dragon's Head /Tail Gemini/Sagittarius axis. Repeated pattern and expression due to an elemental Mercurial Dragon that can result as second, fourth, sixth, eighth times.. etc.. Gemini rules the hands, which means using two hands through a communication with his iphone involving somebody while in an opposite sign that is shown his attraction to the foreign women as a negative karmic(action) in his own stars.
Sun in Virgo has appeared him as an incredible observant, with a great attention to detail and an extremely hard-worker to serve since he won seven terms. Saturn(career/public standing/fears) in Pisces(secret/deception) in 7th house, is shown with highly motive with work in the field of government/career/public standing for a long run, and at the same time,  good at deceptive/secretive speaking in public to deny his sexual scandals, his own wife, his voters and the media too.
Moon in Leo in 12th house, subconsciously acting out his courage/leadership/fame/power fated on a political stage and at same time, subconsciously romanticizing with woman for love/pleasure/romantic/children.
Venus(love) and Mars(aggressive) in Cancer, an intense, attached emotion with a sense of strong security and the root of tradition family related to his upbringing the subject. Also he gets easily emotionally connect to other women's feminine energies that are obviously attached.
Jupiter in Taurus brings him many opportunities for financial or material gain through candidate political.
Mercury in Virgo rules sames energies, ruled by Mercury, the Lord of communication, obviously got a strong critical mental, analytical power and a sense of cleanliness. But the negative aspect, Mercury(thoughts) conjuncted Uranus(shock) means that he has an erratic mind to lead with an erratic behavior in two sexual scandals related to sexting as inappropriate, shocking behavior. On other positive note, He's interested in science, truth, freedom, and global or humanitarian issues. And his Mercury conjuncted Pluto, got a strong investigative and obsessive mind. So, that would indicate of a sexual obsession such as  OCD.