Study: Dogs can feel jealous, too
Indeed, animals have feelings and memories too! Please read this article- Study: Dogs can feel jealous, then come back here to read a short story about Orlando Bloom and Justin Bieber Fight and got jealous over girls with astrological explanation.
The source claimed that "Bieber said something rude to Orlando, like 'She was good' " – a possible allusion to Bloom's ex-wife, 
Miranda Kerr
.
In Chinese Zodiac, Orlando Bloom is Dragon (Aries) and Justin Bieber is Dog (Libra). They are both opposite signs to each other in Chinese zodiac. Dragon and Dog relationships are loud, confused, noisey, uproar, intense, explosive, violent, — obviously, ended their friendship with both parties holding a grudge and jealousy- Orlando's ex wife Miranda Kerr and Justin's on-and-off GF Selena Gomez.
What's more Orlando Bloom was born with Moon (emotion response) in Scorpio (death/drama)
Scorpio also rules the night and revenge. Scorpios can be extremely jealous and exhibit bitterness toward his rivals and that perceive to be enemies. Yes, the stars do rule human and animals too.
Either way, when the stars' paths crossed, there was a heated exchange.
This photo, "the dogs acted jealous when their friends/lovers petted the stuffed dog and talked sweetly". At first, Justin partied with Orlando's then-wife Miranda Kerr after a 2012 Victoria's Secret fashion show in NYC and they got very VERY close.  And, in April of this year, Orlando was hanging out with Justin's on-and-off GF Selena Gomez.  So, the bad blood is flowing. Hours after the fight ... Justin threw gasoline on the fire by posting then quickly deleting – this pic of Miranda.
The Planet Mars is controlled by the month of April. Explain a bit more about Aries.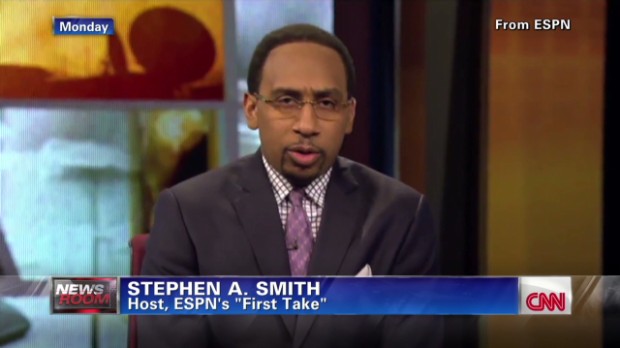 Stephen Anthony Smith (born October 14, 1967), more commonly known as Stephen A., is a talk show host, television personality, and a former American sports journalist.
On July 25, 2014, Smith made controversial remarks that women may provoke domestic abuse on ESPN2's show ESPN First Take, in regards to the ongoing situation involving Baltimore Ravens' running back Ray Rice and his wife.
Stephen Anthony Smith (born October 14, 1967) He is Libra and He is facing the world as Aries that rules blood, warrior, fight and aggressive. Aries also rules sport. Sport figures will appear with more bad news like this, revolting against their management, promoting the war over the money, like the mad dogs dragging themselves to create more drama. Expect more troubles with sports owners/players as well. Aries rules mad dogs and rage like this Crazy Fans Run on the Field ~ Real Madrid vs Roma 0-1 2014 All Goals International Champions Cup  My prediction has come to pass! I did warning for everyone, including the fans, the coach, the owners, in need to recognize the acts of last years so Scorpius Dragon and an upcoming Martian Dragon to take place, as an astrological symbol of Martian that has a such huge impact on the unconscious children of the underworld.
This is another Libra soul and join with Aries Dragon (warrior/fight/accident), Orlando Bloom is Dragon (Aries) and Justin Bieber is Dog (Libra) , Stephen Anthony Smith and the long list of people who were born in April and Libra.
Chael Patrick Sonnen (born April 3, 1977) CHAEL SONNEN ANNOUNCES RETIREMENT
L'Wren Scott (born April 28, 1964 – March 17, 2014) She born under constellation Aries- Month of April. Arian Dragon forced change her suicide decision making. DESIGNER L'WREN SCOTT, MICK JAGGER'S GIRLFRIEND, FOUND DEAD
Donald Sterling born April 26, 1933 "Clippers owner Donald Sterling in firestorm over alleged racist remarks".
David Letterman  born April 12, 1947 The Late Show" host David Letterman announces his retirement from the CBS show during a taping of his program
Hilary Clinton born in October- Why Hillary won't run and UPDATED! Hillary Clinton dodges a shoe on stage

Valdimir Putin born in October- NATO: Russican aggressive 'grave threat"– Ukraine says Russia aims to occupy country 'militarily and politically'– PM says Moscow wants World War III

Alex Hribal, was  born in October – Teen charged as adult in stabbings at Pa. school
Yvan Lopez was born in October-  4 dead, including shooter, at Fort Hood 
Gwyneth Paltrow was born in October– She recently announced her divorce.
David and Jason Benham born October 12, 1975- Benham brothers lose HGTV show after 'anti-gay' remarks

David "Dave" Legeno Born 12 October 1963 – July 2014)- 'Harry Potter' actor dead in desert