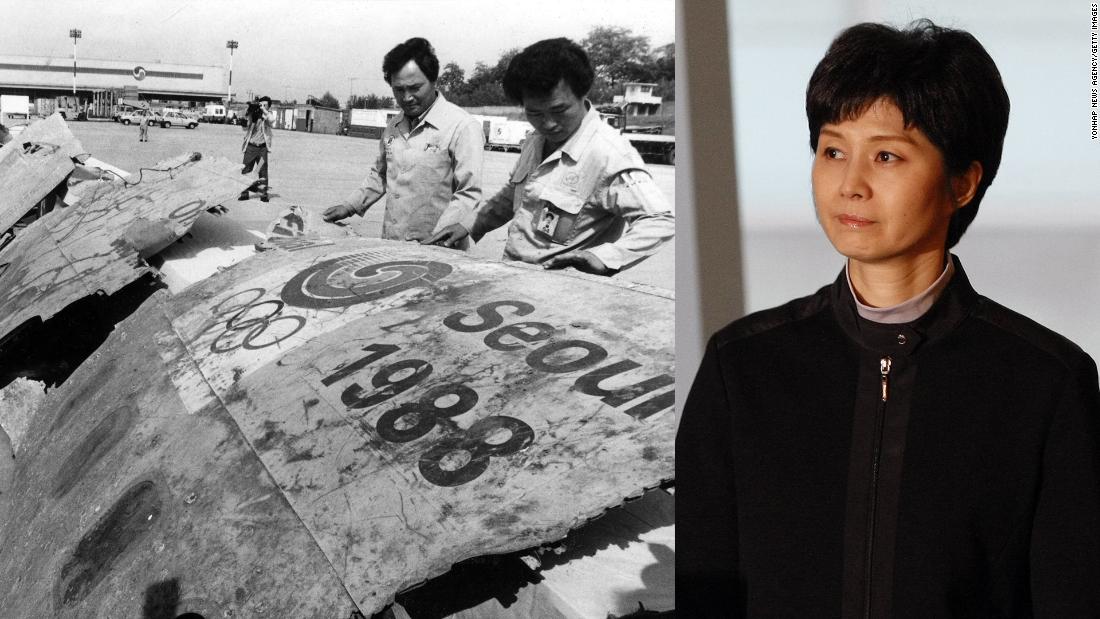 Ex-North Korean spy recounts Olympic plot to blow up plane – CNN
Seoul (CNN) It was her first assignment as a North Korean secret agent. In 1987, Kim Hyon Hui put a bomb on board Korean Air Lines Flight 858, killing all 115 on board on what she says was the direct order of Kim Jong Il, the son of North Korea's then-leader Kim Il Sung.
Astroforensic is primarily an art where intuition and metaphors are used in connection with the detection of crime, it is based upon the science of the stars where precise calculations are performed so you can go back at the great time travels "The Bombing of Korean Air Flight KAL 858" movie of our past and investigate Moon data, and Moon signs predicting the future existence of things past, The month of November 1987 deadly window dates – Moon in Aquarius (Shocking news / Aeronautics / Explosions, / Hurricane) and this is cosmic messages can reach only a minority and more curious souls can heed the signs and understand the various phases of the moon power often triggers erratic behavior in people or nature forces like this specific dates.
While the logical Forensic meteorologists are going into the wrong researches, waste the  billions of dollars and their forecasts do not serve society productively instead of invest in study of Meteorological astrology or Astrometeorology is the practice of applying the astrological placements of the Moon Power to attempt to forecast the weather "Category 5Typhoon Nina smashes the Philippine".
Do you know that Ancient classical astrologers created weather forecasting known as meteorology by noting the positions of Moon Power? This is very thousands of years old and based on astronomical positions that allegedly directly affect the weather on Earth since ever…
Kim Hyon-hui (born January 27, 1962) is a former North Korean agent, responsible for the Korean Air Flight 858 bombing in 1987, which killed 115 people. She was arrested in Bahrain following the bombing and extradited to South Korea. There she was sentenced to death but later pardoned by the President of South Korea, because he born with Moon in Pisces expressing compassion, love, understanding and easily absorb from Hyon-hui's emotion after publicly expressed regret. She was recruited from an elite Pyongyang University where she was studying Japanese.
She trained for six years. For three of them she was paired with a young Japanese woman, Yaeko Taguchi, who had been kidnapped from her home in northern Japan. She says Mrs Taguchi taught her to speak and act like a Japanese.
Hyon-hui have a five Aquarius stellium with Dragon Aquarius (genius/original/Japan /Aeronautics) and she had barely begun her studies when she was recruited for work because they knew she have very genius qualities and a strong sense of independence. Kim spent seven years learning spycraft. Her training included martial arts, physical fitness, and three years of Japanese.
Kim Jong-il (16 February 1941 – 17 December 2011) was the leader of North Korea.
"The mission was to block the upcoming 1988 Seoul Olympic Games," says the soft-spoken 55-year-old, who in 1990 received a presidential pardon for her role in the atrocity after standing trial in South Korea. "My mission was personally signed by Kim Jong Il," she said.
Key words for a negative Aries Dragon's Tail:
You are self centered with no valuable ideas involving others and a low self-esteem
You are afraid of new people, you are insecure and accident prone on the head
You are too impatient and demanding, you should forget the word me
You will take a chance only if there is something to gain for yourself
You run out of energy of stamina
You are jealous and unsafe
You are dictatorial
PLANET     POSITION  (HOUSE)     DIGNITIES
Sun 27Aqu26 (1) (self) soul purpose of Kim Jong-Il is is to explore the incredible and make an intellectual impact in the world at large. Uranus (God of the Sky) in Greek mythology rules Aquarius. Aquarius rules originality, inventions, aeronautics that reason why he subconsciously chose Kim Hyon-hui (Aquarius stellium/genius/original) to use her against South Korea.
Moon 27Lib41 (9) (higher education) In the 9th house of higher education, international concerns, foreign affairs throughout his schooling, Kim was involved in politics, taking part in study groups of Marxist political theory and other literature. Kim received English language education at the University of Malta in the early 1970s. His emotional response to life is balancing of energies, diplomacy, contracts and partners about concerned what makes people the way they are.
Mercury 13Pis22 (2) (self esteem/money) Mercury rules the mind with Pisces Mercury is very imaginative and creative. He authored On the Art of the Cinema. In 1978, on Kim's orders South Korean film director Shin Sang-ok and his actress wife Choi Eun-hee were kidnapped in order to build a North Korean film industry and also he was involved in the production of the Juche-based movie The Schoolgirl's Diary. In this case, Pisces rules secretive and vague related to Korean Air Lines Flight 858.
Venus 11Aqu59 (1) (self) The Goddess of love and art on himself made him extremely special, unconventional, and rebellious lover. He is believed to have been officially married twice and to have had three mistresses.
Mars 28Sag59 (11) (friend/wishes) Mars stimulated his wishes not only to study and comprehend the law and foreign countries but aggressively imposing his views of the truth upon others.
Jupiter 09Tau18 (4) (home) Jupiter rules the codification of thoughts but Taurus is stubborn, money oriented and far from state control of the economy. He spending enjoyed many foreign forms of entertainment at home.
Saturn 09Tau11 (4) (home) Saturn rules mathematics, arithmetics and logic, located the nationalism is primarily concerned with status and financial security. He has a deep need to feel secure; both emotionally and financially but not motivated properly, he won't move even a muscle. Kim Jong-il had a "reputation for being almost comically incompetent in matters of economic management". The economy of North Korea struggled throughout the 1990s, primarily due to mismanagement.
Uranus 22Tau17 (4) (home) He needs a beautiful home where power and wealth must be expressed. Taurus is a beautiful art sign and expensive works of art. His mansion was crammed with his idol's records and his collection of 20,000 Hollywood movies included Presley's titles.
Neptune 27Vir05 (8) (secret) Neptune (Poseidon the Lord of deception) in 8th house of death and life. He may be interested in psychology, occult subjects and yearn to explore the hidden dimensions of life.
Pluto 02Leo41 (7) (contract/partners) Pluto impact (death/terrorism/drama) in 7th house of (partners/open enemies) He was accused of crimes against humanity. Kim's distinctive clothing had set worldwide fashion trends. Leo is a fire and fame oriented sign.
MNNode 03Lib43 (9) (higher education) He have done a good job with improve North-South relations and not only to allow South Korean companies to start projects in the North, He signed an Agreed Framework which was designed to freeze and eventually dismantle the North's nuclear weapons program with US. Kim was known as a skilled and manipulative diplomat.
MSNode 03Ari43 (3) (mind) Always avoid any and all direct and honest communication. insensitive of others' emotion since his belief that he know everything.
BlackMoon 27Ari50 (3) mentally aggressive, too competitive, insecure traits something he don't trust others.
Last 1988 Universal Aries Dragon make him serious mistakes of judgement and done criticized by the media. The trouble-oriented sign of Aries produced huge explosive, fire, and nature's most destructive forces at work are the signatures of ferocious Mars (Lord of Wars) enter his 9th house of traveling affairs where it located in Middle East is exactly what happened to Ex-North Korean spy boarded KAL flight 858 from Baghdad to Seoul, planting a time bomb in a luggage rack before getting off at Abu Dhabi. The plane later exploded over the Andaman Sea near Burma.