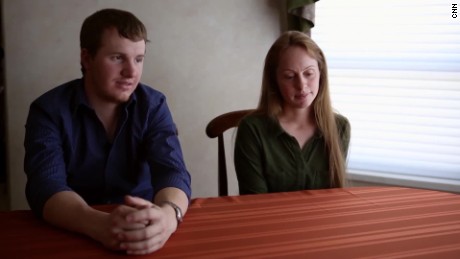 Warren Jeffs' son, daughter allege sexual abuse
(CNN) For the first time, two children of Warren Jeffs have alleged that the imprisoned leader of the polygamous Mormon sect sexually abused them as children.
Now adults, Becky and Roy Jeffs speak out for the first time on "This is Life with Lisa Ling" is reflected to the people and affairs of their past – 2015 Mercury Retrograde will always bring you back to your past keeping popping back into your thoughts. Becky and Roy Jeffs have to take this time to sit back, review what's going on and where they both go
through in their life in the past with his father, polygamist cult leader. Mercury retrograde is the purpose for what you've left unresolved in the past in order to express/share their story about how being controlled, manipulated and shuffled around in home and mainstream Mormon church. Warren Jeffs had approximately 60 children with his estimated 78 wives,
according to CNN. There is no critical thinking left in the mind of children and wives of those conditioned "young souls" who were victimized by the codification of thoughts accepted by an unconscious polygamist cult leader and follow a man made false God.
Bloodshed in Jerusalem caught on camera – CNN Video
In the Old City of Jerusalem, increased violence between Palestinians and Israelis has escalated tensions to new heights in recent weeks.
Time to teach all the children of the world about ONE single Universal God, under ONE single cosmic religion and stop the man-made nonsense religion infestation of the gullible, unconscious lost souls.
The world of religion and science are not ready for cosmic phenomenon at work but depends on the archaic religious words and infantile scientific community to lead to nowhere but the power of the stars to used God cosmic Divinity for bring us to more love, harmony and peace.
Indeed the Dying Age of Pisces ( imagination / deception / religions) is exposed by horrifying truth, negative media coverage of mainstream Mormon church and being replaced by the Age of Aquarius is now exposed by new awareness/wake up call (humanitarianism / technology / UFO/ cosmic education)
This is a full cosmic explanation of Warren Jeffs's natal karmic psyches and as a result of horrible acts against innocent 78 wives and 60 children is available to those willing to bypass the limitations of their traditional education and get real clues to what it means to be human as polygamist cult leader.
Warren Steed Jeffs (born December 3, 1955)
PLANET     POSITION  (HOUSE)     DIGNITIES
Sun     10Sag33  (1) Sagittarius are stimulated by the Jupiter to "philosophize" and seeks the truth in all circumstance, pursues religion, philosophy, and codification of thoughts to discover the meaning of life and fulfil their soul's purpose to better all their expansive vision, ever looking beyond the horizon.
Moon     03Leo34  (9) Moon rules emotion response in 9th house of religion where he preach the word bible verses but Leo rules love, romantic, creative and children that leads to create more children but "sexual assault" and "aggravated sexual assault" of two girls ages 12 and 15, not only that He also used kids to work on pecan harvest as FLDS child labor.
Mercury     09Sag57  (1)  Warren's Mercury, (critical thinking) in Sagittarius (codification of thoughts) can't help himself to follow his established religious belief systems and victimized by the codification of thoughts accepted by his unconscious father, the leader of the FLDS Church at his death, was survived by 19 or 20 wives and approximately 60 children.
Venus     04Cap10  (2) Venus is love but Capricorn needs material wealth and status to feel safe and secure where it located in 2nd house of self-esteem and income to move forward the work of the Mormon Church.
Mars     02Sco53  (12) 12th house of secret and subconscious something related to his passion sex. Mars in Scorpio equates sex with power. He have a powerful desires and emotions.
Jupiter     01Vir09  (10)  Jupiter rules the codification of thoughts (religions) in 10th house of preacher career, status in the world, authority and reputation in FLDS Church while earthly Mercury is more detail oriented, cautious, practical, service his man made religious.
Saturn     25Sco45  (12) Saturn (status and career) in Scorpio indeed motivations hidden deeply and control other people's possessions while 12th house of secret and subconscious leads to sexual activities.
Uranus     02Leo03  (9)  With eccentricity Uranus in the religion house, strangeness, oddness, freakishness teaches and acts against innocent 78 wives and 60 children. Leo is constantly looking for pleasures and love affairs even dramatic.
Neptune     29Lib27  (11) Neptune rules deception/religion in friends and wishes houses, He do sacrifice or compromise in order to make them (78 wives) work. Libra rules partners, marriage and harmony in relationships with others.
Pluto     28Leo37  (9)  The planet Pluto is located in your 9th house of religion, Police will enter his life as result of what happened to his many loves and children. Leo rules Children and creativity while Pluto rules power, sex and passion.
Ascendant     10Pis00  (1) imagination / deception / religions
Midheaven     12Sag58  (10) religion / philosophy / codification of thoughts
MNNode     17Sag36  (1) all the religion / philosophy / codification of thoughts was always started with his cosmic journey since his father, the leader of the FLDS Church was passed away.
MSNode     17Gem36  (7) Facing the world – With Gemini dual life fated Dragon's Tail is exposed on many partners / marriages = 78 wives. The past-life residue in Gemini (double personality) is not yet understand by traditional education and get real clues to what it means to be human as polygamist cult leader with many wives.
BlackMoon     29Sag45  (1)Warren thinks he is above the law, wont his mind, his views or his beliefs but makes unwise decisions and does not learn from mistakes.