First of all, It's not all about Freedom of Speech that is being attacked every single day in this country and has no final answer. That's something about social media's ignorance and bigotry obviously is missing the spiritual cosmic rules.  You must understand to find out what is behind the human mind on the reaction with 'hate speech' about homosexuality. Depends on your level of curiosity in order to understand how the stars make up in Phil Robertson's celestial elements by imposing others with what he believes. Suddenly, Phil has a huge numerous of  followers to stand behind him and his family.  This manifestation is the conservative problem as the result of their strong religious practice that comes within their each individual cosmic identities.  People don't really know themselves deep without knowing their natal charts including  A&E and GQ magazine reporter could not provide direct answers about his "homophobia" issues.
I'm constantly amazed by recognizing the cosmic identities meanwhile the clueless news media and public remains to attack each other.
Nothing would give direct answer yet hearing the same old results through news media over and over. You could upgrade with knowledge to recognize,  not to be  trapped by the same old paradigms as everybody else by according to deceiving religious mind. To learn and seek the stars' language by according to God Cosmic Conscious written in the lights(Zodiac) because these people via celestial bodies possess divine origins in natal chart and life given through the stars.
The stars would tell you everything about you which possess your own each unique cosmic identifies individually. All walks of life, born to be as a scientist, a teacher, a rockstar, gay, politic, caretaker, and so many with purposes. Each person is downloaded and programmed by 12 Signs of Zodiac and Planets created by God.  No one is born to be equal for many cosmic reasons. Knowing people's natal charts is to be able understand where they  are coming from, including yourself.
When Moon enters Cancer that manifests predictably "got suspended " after Phil's hate speech shared with GQ magazine reporter and  A&E Television Networks. Moon in Cancer that offers a new beginning/ending of unexpected/unfortunate phases of life. Actually, Phil Robertson could have avoided to be fired , followed with  anti-gay remarks unless he is aware of the upcoming Martian Dragon that would spotlight him and at the same time with Moon in Cancer that busted his potty mouth at a wrong time. So he needs to learn this lesson to avoid this hate speech to have stable life.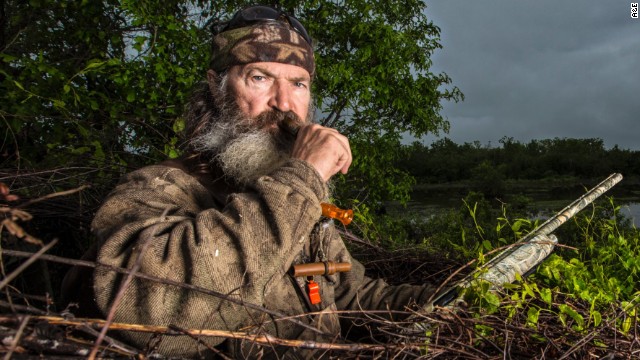 Phil Robertson of A&E's "Duck Dynasty" has been suspended for his comments on homosexuality.
Here's an explanation why his subconscious think that homosexuality is a sin that may show in his natal chart. Phil Robertson (April 24, 1946) was born with Moon(subconscious) in Pisces(religious/addict/alcohol/fisherman). Moon rules the emotional response to his life where it's located in religion/addiction/fisherman sign in Pisces. In his young adult, he was running a bar, fell in an addiction to alcohol after a series of distressing incidents and a period of time spent away from his wife and children. He returned to his family, decided to get baptized in the presence of his wife and children.
He was born with Dragon Tail in Sagittarius, a subconscious about his religion, law and order, as a bible was his priority. Sagittarius likes to be blunt and self-righteous, also interested in traveling, culture, and outdoor activities(Duck duck hunters, primarily the duck call named Duck Commander)
Unfortunately, he is another victim of controlling religion/education spreading around with social media to set a fire to the national controversy this week with provoking remarks he made about homosexuality. .