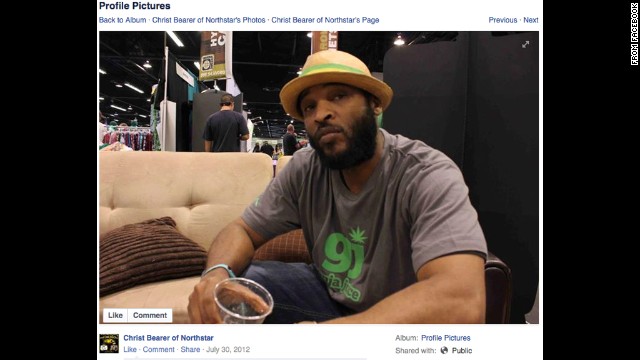 (CNN) — The rapper who mutilated himself and then jumped from a Los Angeles building has broken his silence about what happened.
Andre Johnson was severely injured in April after he severed his penis and leaped from the second level of a building in North Hollywood. He told E! that he was under the influence of drugs at the time but insisted that he knew what he was doing.
"Yes, I was using drugs that night, but I was in complete control," he said. "I cut it off because that was the root of all my problems. My solution to the problem was the realization that sex is for mortals, and I am a god. …Those kinds of activities got me into trouble, and I came here to be a god."
Johnson performs under the name Christ Bearer and his group Northstar was affiliated with the Wu-Tang Clan. Johnson said he hadn't spoken out on the incident before because "People perceived me as crazy, so I never wanted to speak wholeheartedly on the matter."
Doctors weren't able to reattach the penis, he told E!. He said he had been seeing a psychologist after he was discharged but that he has been deemed okay. He said he was thankful to God when he awoke in the hospital still alive.
"I didn't want to kill myself," Johnson said. "That was just my response to the demons. They were doing their best to get to me, but being alive solidified my thoughts. …I'm alive, penis or no penis."
Rapper Andre Johnson (born April 28, 1975)
He was discovered outside an apartment building in North Hollywood after the fall from a second-story balcony during Moon in Scorpio on April 16, 2014.
Yes, Moon in Scorpio is immediately clear of what it triggered Johnson's actions. 'Holy' moon eclipse madness. How can he be so angry at his own penis by cutting it off that manifested taking drugs turn him lunatic. It makes you wonder what internal demons he's dealing with that would make him sever his penis? Here's explanation why he cuffs his penis. Note, Scorpio governs the groin area: the 'private parts'  are like volcano.. God gave us for sex to feel good, so we do it very often. He obviously doesn't understand himself properly because no one is there for him sharing the cosmic secrets to understand what his soul is all about, instead of taking drugs, illusional talking to the demons."
He was born under negative Gemini Dragon's Tail, he continually confused and indecisive. He's unable to make up his mind. Gemini rules duality or multipled personalities that easily deceive himself. Andre needs to seek for help for his depression and suicide. Suicide isn't the answer, the real answer to his problems are seeking for the stars in order to understand what it means to be human being. God's cosmic divinity designed all human beings in His own soul in cosmos image, in the icon of God He created him. INVESTIGATE THE STARS in order to receive and understand the truth in the cosmic face of God.
His natal Sun(light) in Taurus(self-esteem/beauty) and Mercury(mind) in Taurus(love) have especially pleasant voices. rules the throat and neck. That's why he's a good singer and orators having powerful voices. Venus (Taurus ) and Gemini (Mercury) together. Venus rules the art and beauty. Mercury rules communication through the music.
But the problem is he's mentally unstable, taking drugs, alcohol and religion too seriously all at the same time. His Moon (emotional response) in Sagittarius (religious) and his Mars(desire) in Pisces (drugs, music and religious) messed him up. He even claimed himself to be "God".
Now, talking about his groin area where it located in his 8th house of groin area: the 'private parts' like volcano, found in the planet of Uranus (sudden release/shock) in Scorpio (life/death). Pluto rules 8th house of witchcraft, life and death that his subconsciously response to his groin area as "demon". His regeneration is supposedly reached within the  research, metaphysic, corporate endeavors and spiritual exploration instead of  "talking to demons.", cut off his penis.
In sad fact, religious experts, education expert, traditional psychology and psychiatry system have a long way to go to reach in the secret of the souls or God's cosmic divinity designed all human beings through the twelve signs of the zodiac to understand the human nature and behavior, such as why Rapper Andre Johnson severed his penis. While Atheists, Agnostics, Skeptics are 'impossible' to describe what happened to him is manifestly happened to him under the influence of stars without the will and awareness.
"Signs and symbols rule the world, not words nor laws." -Confucius 
God's cosmic divinity designed all human beings in His own soul of cosmos image, in the icon of God. He created him. INVESTIGATE THE STARS in order to receive the truth in the cosmic face of God. – BL
Follow me- https://twitter.com/luneborgstar