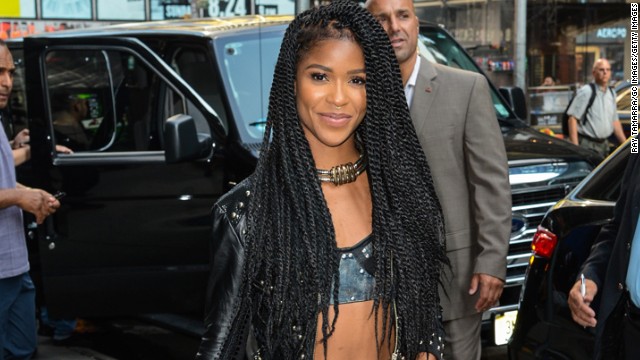 Singer, 'X Factor' finalist found dead
Simone Battle (June 17, 1989 – September 5, 2014)
7:35 AM PT — Law enforcement sources tell TMZ Simone was found hanging on a rod in the closet of her bedroom around 8:30 AM on Friday.
Former "X Factor" contestant Simone Battle's suicide has stunned her father … who says the "G.R.L." singer never once let on that she was suffering as she got a taste of success in Hollywood. Anthony Battle tells us he and his daughter hadn't spoke on the phone in a few weeks … but they texted every day and she seemed to be doing just fine. In fact, he says Simone was excited about where her career was heading. G.R.L. had recorded and released a song with Pitbull earlier this year. We're told close friends of the 25-year old singer spoke with her via text the night before her death — they also didn't sense anything was wrong. When we asked Anthony if Simone was battling depression … he said he was unaware of anything like that, but acknowledged … "It's possible she may have had an invisible disability."
In social media, Butler posted a picture of Battle and wrote: 'I'm, still in shock and in disbelief to have confirmed the death of my childhood friend. Another one of Battle's friends also talked about the singer, calling her death "shocking." 
Today Moon in Aquarius (shocking) is manifesting trigged more than usual cosmic energy from her Dragon's Head in Aquarius- shocking news! but her life is very short. Why?
Keep in your mind, those all the psychology and forensics professors who are supposed to be the "experts" in their field are often the least knowledgeable on the suicidal subject. In this case it shows a total unawareness of the Dragon Tail in Leo is result of her short life. Not only children but EVERYONE, especially every FAMOUS person will be a target for the Dragon's Tail (Fateful/drama) in the chivalrous sign of Leo (short life).
Simone Battle was born with a the same Dragon axis Leo Aquarius as 'Crocodile Hunter' Steve Irwin, Princess Diana, Selena Quintanilla, Benazir Bhutto depicting a "shocking/surprising/explosive" death. She was suffering his Tail of the dragon in Leo. Leo rules LIFE, fame and power and before her suicide this month, she spent over the years building her career through singing in a church choir, studying ballet and tap, modeling and acting in television commercials before working an internship with a company associated with the Black Eyed Peas. She studied music and songwriting at the University of Southern California before competing on "The X Factor," where she reached the top 16.
Battle (center) with other members of
G.R.L.
in 2013
She was a member of the girl singing group G.R.L., which performed last month on ABC's "Good Morning America." Sad enough she was not taught by the controlling educational from U.S. Department of Education (very tradition education or non cosmic consciousness ) how to control the negative pull of her own personal dysfunctional natal chart and her Leo Dragon's Tail took over, Worse part is that she owned the planet Mars rules aggressive and dangerous in a huge ego in Leo in 3rd house of siblings, obviously, sisters of G.RL where her unfortunates with journeys; threatens destruction to her attitude, shows much angry argument and disagreement between her "sister" or the girl singing group G.R.L., is very clearly destruction of each other, with much violence or lead to addict drugs where it located in 6th house of work / health is found by Pluto in Scorpio (drama/destruction).
Note also Aquarius rules group and group games and this sign is known as friend and wish and member of of G.R.L. and also her Moon in Sagittarius rules foreign relationship with four girls's different background in 7th house of public of the singing group in front of the audience.
She don't realized that her natal Saturn the planet of fear her own career sign of Capricorn, she was too much concerned her position, power and career. The Saturn will reward her in long journey and success later in her life. She owned the three planet Gemini stellium is very smart but restless and easily mental conflict with famous crooks, realized she can't take anything for granted then decide to exited the earth.
She have to hard work to earn herself then Saturn will reward her in very long time, but She can not handle her fame in public. I highly recommend her to riding the positive head Dragon in Aquarius, it rules weird, television, radio promoting the new age. science and investigates  NOT to becoming singer or be famous! as result of short life! That's her spiritual regeneration to lead to her happiness life. X–Factor's Simone Battle 'depressed over money' before she .. Her subconscious motivation- She (Gemini-born) has a subconscious fear in the sign of Taurus- financial insecurity, letting of the the past, past, money and power.
This show you what's mean to be human being with more accurate details to what happened to Simone Battle hoping for all the psychology and forensics professors out there to by pass their five educated/limited human senses and learn something new today forensics students could never gather anywhere else on the Internet.