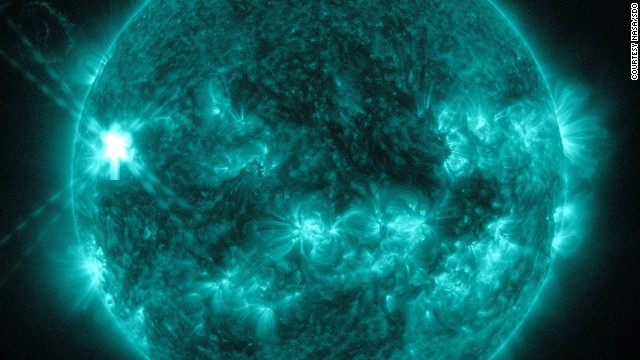 "Earth's atmosphere usually protects us humans, but you might want to keep a flashlight handy. Solar storms can knock out power, interfere with GPS and radio communications — including those on commercial airliners — and they can damage satellites."
This is type of non cosmic consciousness meteorologist and astronomers don't have no clue about mercury retrogrades. Only Mercury retrogrades heading toward earth not solar storm. OMG! If his intellectually lazy or have a lack of critical thinking ability or never pick up the cosmic books?
Many Space weather experts and CNN Meteorologist Chad Myers can not explain anything about cosmic spiritual education via mercury retrogrades, but only according to his logically explain what giant burst of radiation called a coronal mass ejection, or CME if you read my old memo with a great examples and explanation from the past of Mercury retrogrades.
" Space weather experts aren't sure yet what this solar storm will do." This is a pretty strong solar storm and we just won't know until it gets here" what it will do, said CNN Meteorologist Chad Myers.'
September 30 – October 30, 2014
Space weather doesn't provide documents by certain dates to establish you that upcoming "big solar storm" mercury retrogrades in ahead of time. This weather prediction must provide documents by certain dates to conclusive proof of weather patterns from the past and the future, but this show you that I already ahead of traditional science. That's why it is very important for everyone to learn the difference between provide the certain dates and lack of documentation by certain dates from the past.
Here's my documentation is full of examples of how to use and published "predictions" using modified software.
Caught on tape: Kids hit by car– transportation
2 Navy jets crash in Pacific– transportation/airplane
Hurricane Odile flogs tourists with rain in Mexico's Baja California– Hurricane
Survivors: 500 migrants died when people smugglers rammed boat– transportation
Freak accident kills 'hero' bus driver– transportation
Mayweather: No pictures, no proof  

 – The people and their affairs of the past will make the news
Kanye West Sydney wheelchair misunderstanding– Misunderstanding
JetBlue passengers endure frightening emergency landing– loss of power
Upcoming Mercury retrograde *negative mercury energy on the consequences of traffic crashes that also will mess up with the air-crafts, trains, car, road transportation, ship transportation, cable transportation, pipeline transportation and space flight, all of the "mercury" to be affected by this energy.

Mercury rules transportation, communication, movement and electronic equipment that may impact with delays, strikes, flight cancellations, electricity shutdowns/cutoffs, also affect through the communications through the computers, telephones, transpositions (aircraft, ship, helicopter, train, subway). The same energy that produce weather destructive nature including the hurricanes, tornadoes and earthquakes.

Memo- Upcoming Mercury retrograde June 1- July 9, 2014

Following by Atlanta meteorologist or Astro-meteorologist?


Pilger, Nebraska (CNN) — Becky Hauf had always been told her little town of Pilger, Nebraska, would never see a tornado. Too close to the Elkhorn River, the folklore went. Instead, Pilger got two. At the same time.

Predication came to pass! or Perhaps there is a pattern set up in the heavens for one who desires to see it, and having seen it, to find one in himself; That's what the Philosopher Plato said!

Gigantic twisters side by side   – Chaser: Double tornado violent  

This is purpose to document with cosmic weather in astrology, in order to indicate the findings in currently universal natal charts such manifestation of duality natural phenomena produced are under the power of the Uranus(Moon in Aquarius)

June 14/15/16- Moon in Aquarius is phenomena witness come true.

The cosmic weather you see below is also produced by Mercury retrogrades and cosmic interpretation of applying to Sun conjunct Mercury in Gemini rules duality create a double tornadoes that the stars has clearly spoken in front of your eyes. That's why this is very important to keep track with cosmic weather with documents and specific date with cosmic signs. Gemini and Aquarius rules air elements, strong winds blowing, cold and wet. Air is often seen as an universal power as a dual tornadoes. Aquarius rules tornadoes and hurricanes with duality natural phenomena produced is clearly seen that followed by the symbols, signs, keywords of astrological energies, including specific dates.

So my question, How can atheist, agnostic and religious ones get to follow up with the duality natural phenomena produced under the cosmic weather? Never. Ever. Atheist, Agnostic and Religious are constantly trolling each other to prove themselves below the powerful stars. Sad fact, they don't really pay attention what's around them spiritually with signs everywhere, what I have seen a cosmic phenomena witness come true with astrological knowledge. Many noncosmic consciousness people need some spiritual foods in order to embrace essence the stars in order to understand how cosmic has affected around the world including the people, the weather, the nature, the events, and so on.

Knowledge is a power while an ignorance fall for mishaps. Important warning is a must repetition to avoid being a victim.  Its's all about power of cosmic consciousness to make life easier.

Viewers got angry when the KSFY News station broke into the "Once Upon A Time" season finale to bring tornado coverage. #onceuponatime #southdakota#severeweather

TV anchor did a right thing! Sad fact, non-cosmic conscious Entertainment Zombies must watch their show "Once Upon A Time". It's so much more important than an insignificant tornado happening in its local. Entertainment Zombies have the same attitude with atheist, religious or skeptical ones due to their limited five senses lacking of awareness about the spiritual world in order to know ahead of time before Tornado would kill them?

Who is responsible for checking your local hazards and the weather forecast before Tornado kill you? Did Politicians, Psychics, modern Prophets, Religious leaders, Monks, Gurus, televangelists, priests, pot heads pass it on to all people about the weather warnings of destructive wind? Did you see predication with lunar phrase? None. They know nothing.

Most importantly, You are the witnesses that I post many hints, tips, keywords, dates, documents, proofs, over and over that my prediction has a very manifestation accuracy. Why? Stars don't lie. This is not for entertainment. Many fans/readers/viewers are pretty smart and curiously advanced souls here. This is seriously critical thinking only. Since 2008, I've been sharing many valuable info through my blogs, vlogs, facebook pages, twitter that spread everywhere. Please pass my work to share of my website.

People are too concerned with themselves. If it helps to save the life, even by a divine astrologer. I say it's worth it. Turn off your TV, just listen to a radio, newspapers or google up or learn more about the power of the Tornados. How many of you would be angry if they didn't report a tornado at all, when you're stuck on highway all day? Quit crying over on a dumb tv show. There are so many selfish people out there what if the tornado is aiming at you,  you want to know but if it doesn't affect you, who cares? People don't have any empathy or cosmic conscious for anyone.

Stupidity like this amazes me. I had the exposure to weather warnings of destructive naturefor many years in Texas where I was born and raised, it happened numerous of times. And it amazes me that people would rather watch their TV shows to risk their death over a TV show, than heed for the warnings. You ALWAYS have another chance to watch a repeated show, or find through Hulu, etc. But you never get a second chance when it comes to weather warnings.

Upcoming Mercury retrograde *negative mercury energy on the consequences of traffic crashes that also will mess up with the air-crafts, trains, road transportation, ship transportation, cable transportation, pipeline transportation and space flight, all of the "mercury" to be affected by this energy.

Mercury rules transportation, communication, movement and electronic equipment that may impact with delays, strikes, flight cancellations, electricity shutdowns/cutoffs, also affect through the communications through the computers, telephones, transpositions (aircraft, ship, helicopter, train, subway). The same energy that produce weather destructive nature including the hurricanes, tornadoes and earthquakes.

June 1- July 9, 2014

"Along with the sharks there were plenty of dolphin and stingrays, even a sea turtle or two but the large number of sharks at this popular access to from Pensacola Bay to the Gulf was impressive and something Sida says you don't see everyday!"

Dozens stuck for 4 hours in SeaWorld San Diego ride a power failure