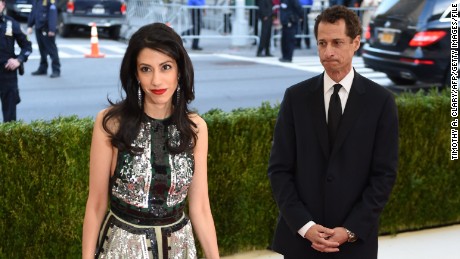 Anthony Weiner, Huma Abedin separating after new sexting allegations / What's Wrong With Anthony Weiner? We Asked Some Psychologists – Vanity Fair
Weiner got caught sexting again. Something more serious sex addiction problem with him and Why both keep together in marriage since 2010 till today finally dump him? You may wondering why… I will explain both lover synastry chart compatibility between zodiac signs that something you will never taught at home or school.
A traditional psychologists or Biblical christian marriage counselor without knowledge of astrological synastry have no a right to call her / himself as psychologist / counselor without know the soul of cosmos first. Many don't know what psychiatric issues and behavioral disorders is found in the aspect of the disturbing planet.
How can they help others when not know themselves in natal charts or know NOTHING of the spiritual values of their local solar system and its interrelationship with human living on earth? Synastry is the art of relationship Astrology. It is a very useful tool for partners who wish to know the strengths and weaknesses in their relationship and illuminating study of how individuals interact with one another.

As such, Astrology is a true "mother of all sciences" and the original core of all ancient culture and religions. Sad enough, Anthony Weiner (Jewish) and Huma Abedin (practices the Muslim faith) have no clue the human mind is directly related/connected to the Universal Mind (Cosmic Code) and depraved of Cosmic Consciousness to cause of failed relationships is unresolved arguments.
Inner Chart – Anthony Weiner (born July 28, 1976)
Outer Chart -Huma Abedin (born September 4, 1964)
*Abedin born with Dragon Scorpio/Taurus axis is representation of expression – fixed sign / securely / stability or firm / dependable. That's why she keep him in marriage.
She is a Leo and that makes sense to why she remain so long in the marriage. Sun conjunct Moon in Leo in synastry, Leo rules heart, love and loyal however She should use her head, not heart over sexting scandals and Sun-Mars in Virgo aspects remain be an extremely favorable and powerful aspect in any relationship.
*Weiner born with Dragon Gemini/Sagittarius axis is representation of expression – mutable sign / subject to change / varies / dual. That's why he keep communication / send sext messages to keep in touch (foreign women) and also unlucky with foreign women / law / politics / public service or social administration.
Virgo is a dedicated, honest, hard working "servant" of the Zodiac. Anthony Weiner' soul purpose is to serve and clean all that he touches!  Spiritually advanced September souls are born mental leaders and masters in communications for examples – Bernie Sanders
Pluto (overwhelming sexual passion ) in 1st house of self / first approach to situations, personal appearance (sexy body).
That's need explain to him why overwhelming sexual passion. He must introduce astrology when young age before go enter political world so it won't end up on headlines in public. But He didn't which it mean never taught at home or school. He now embarrassed himself.
Uranus (erratic /unexpected / sudden change / technology) in 1st house of self / first approach to situations, personal appearance (sexy body)
He must learn the power of Uranus in 1st house of self and good chance to learn himself as  Astrology, Science, UFOs and the Moon | Dr. Turi M.D.U.S and learn more about cosmic nature sexual simulated in his natal Pluto in order to control himself is a must. Be acknowledge your own cosmic identity.
Neptune (deception) in 3rd house of general communication as result what happened with his trouble / problem communicating. He should be focus on spiritual value not deception of religions.
Born with Moon (emotion response) in Leo is constantly seeking attention and Venus (love) conjunct Mars (desire) in Cancer (emotion connection).
Currently Universal Dragon Tail in Pisces impact his 7th house of relationship is over because He born September.